AMAZING VIDEO: front row seats to reef in new sea plane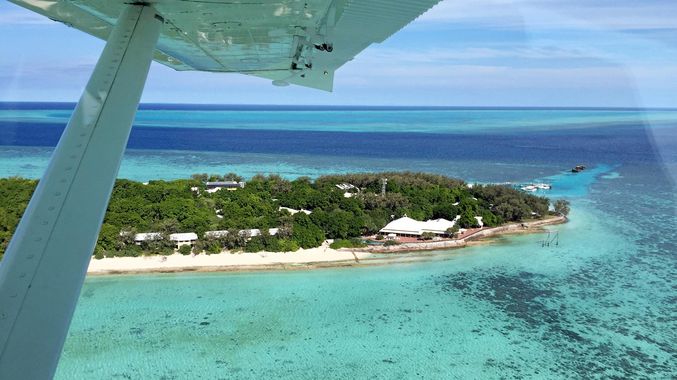 Gladstone's latest sea plane. Picture: Hannah Sbeghen
GLADSTONE sea plane business, Australia by Seaplane, has a shiny new recruit to accommodate the high demand for Southern Great Barrier Reef region holidays.
Say hello to Australia's newest seaplane, a Canadian built Bush Hawk XP amphibious, the first of its type in Australia on floats.
The new addition has already been taken out for a whirl over Gladstone's spectacular reef and is expected to cater for more holidaymakers.
According to Chief Pilot Vance Krahenbring it is one of the first aircrafts since the 1960s De Havilland Beaver to be specifically designed as a float plane.
"These aircrafts were designed to operate in the Canadian and Alaskan back-country and are built tough," Mr Krahenbring said.
"We have mounted this rugged aircraft on the best floats so that we can offer our passengers comfort, reliability and above all safety".
Australia by Seaplane director Robyn Burrows said the aircraft was the second sea plane in the fleet and opened the door to international holidaymakers.
"This is such an exciting opportunity for tourism in the Gladstone Region," she said.
"This aircraft opens up so many doors for exploring the Southern Great Barrier Reef right on our doorstep.
"We've had a high demand of enquiries from international guests."
The new aircraft has already done it's first 10 trips, transferring holiday makers to and from Heron Island, Lady Musgrave Island and the Southern Great Barrier Reef region.
With panoramic views through large windows and four door access the aircraft can carry up to four passengers.
Bush Hawk pilot Joshua Quilty said the plane offered more flexibility and the opportunity to discover the region.
"This aircraft can go almost anywhere," he said.
Based at Gladstone Airport, Australia by Seaplane has been servicing the Central Queensland region for more than a decade.